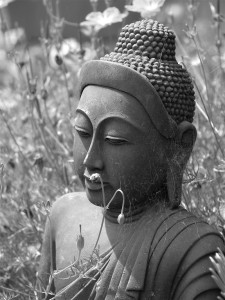 …Reveal your naked self
and embrace your original nature…
Dao De Jing, Chapter Nineteen
Translated by Peter A. Merel
David Kukkola, founder and director of Healing Ways of the Four Winds, has been a Traditional Healer and practitioner of the Natural Healing Arts for over 35 years. His training with Medicine Men and Women has been worldwide; Native American, Asian, African, and European. Since returning from his studies from the Namikoshi Shiatsu College in Japan, 1983, he moved to the Bay Area and began building his successful Healing Centers. Currently, he has a Healing Center in Lafayette, CA and an herbal manufacturing company, Bluejay Herb Co., in Aptos, CA. His current endeavor is creating wild and traditionally cultured foods. David is a Shiatsu Master, Medical Herbalist and guides clients through rituals and ceremonies. Over the past 15 years, he has helped to create a practitioner's product line of over 200 proprietary formulas for supporting the bodies' ability to heal and regain balance. His magnum opus is, "Roots of Healing, a guide to natural healing". He is currently writing "The Country Doctor's Cookbook".
David has worked within the Native American communities since the 1970's and has provided his services and herbal medicines for many of their leaders. Some of which include Thomas Banyacya, Dennis Banks, Bill Wahpepah, Floyd Westerman, Bill Means, Malidoma Some, Nane Alejandrez, Walter Guzman, and Miguel Molina.
His non-profit, Healing Ways of the Four Winds, founded in 2002, has provided Natural Healing services and developed health programs for the indigenous communities and underprivileged peoples of all colors and religions. He has worked with Bruce Elijah, medicine man from the Oneida Clan of the Iroquois Confederation for over 15 years. Together, they created a healing program called "Mending the Sacred Hoops". This program has helped hundreds of clients overcome illness and achieve wellness with the integration of the traditional concept of the interrelationship of the body, mind, heart, and spirit.
David has a monthly program on the radio station, KPFA 94.1fm , Berkley CA., "Traditional Healers from the Four Corners of the World". The mission of this broadcast is to inform, educate, preserve and further the traditional healing arts of the indigenous people of the world. This is the third year of its successful broadcast. It can be listened to or seen on Youtube, podcasts and Facebook. He is now going into the production of a new monthly show, "The Fireside Show" with video producer, Clay Schmitz.
"Certain things have the power to produce healing within us provided that we remember them. Just like certain kinds of illness can only grow inside of us if we maintain silence around them…"
Malidome Some, The Healing Wisdom of Africa